Hakuba47 Winter Sports Park (Hakuba47)
Hakuba47 Winter Sports Park (simply known as Hakuba47) is a resort located in Hakuba village in the northern part of Nagano Prefecture. It shares a common lift pass and is interconnected at the top with the Hakuba Goryu Ski Resort. Hakuba 47 is relatively smaller compared to other ski resorts in the Hakuba area which has 8 courses, vertical drop of 794 m (820m - 1614m), and longest distance of 6,400m. However, if two resorts are put together, their slope become 150 ha and get No.3 largest position in Hakuba area. The highlight of Hakuba47 is the terrain park and snow quality. The terrain park is one of the biggest in Hakuba area which has big kickers, well maintained half-pipe and a variety of boxes and rails. Since most of the slopes face north or northeast, the snow can be kept in good condition.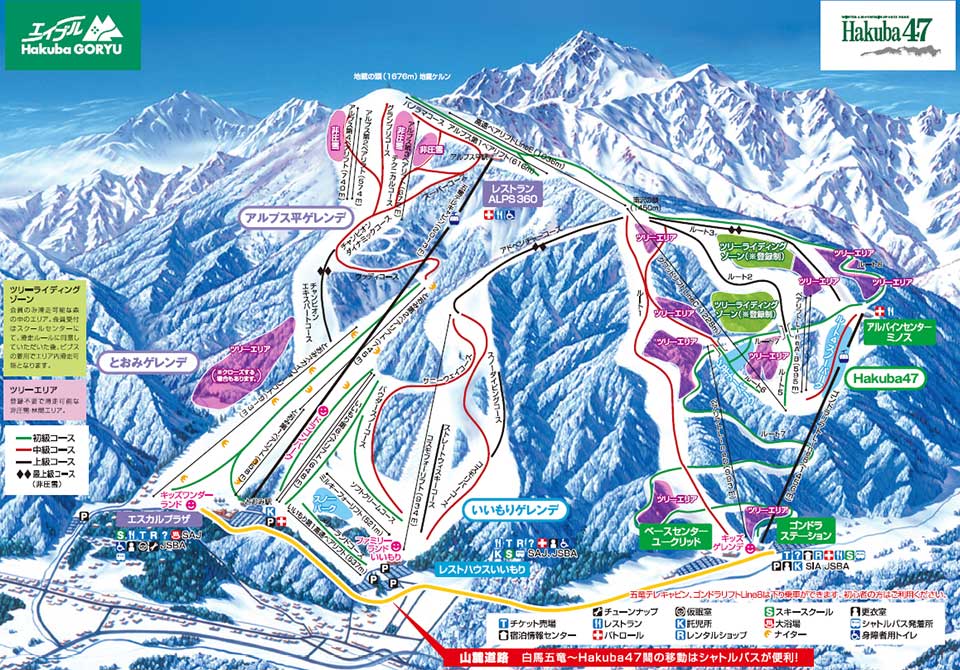 Basic Information
| | |
| --- | --- |
| Courses | 8 |
| Longest run | 6,400m |
| Area | 32ha |
| Elevation | 820-1,614m |
| Open | Mid-Dec(2019) |
| Close | 6th.May(2019) |
Course Ratio
Beginner
59%
Intermediate
23%
Advanced
18%
Lifts
6
0
1
1

Others

0
4
0
0
Pros
In combination with Hakuba Goryu, Hakuba47 offers a variety of slopes.
Slopes are steeper than most of the other ski resorts in Hakuba.
The quality of the snow is well retained due to the northerly facing slopes.
Good tree run zones are available. To enjoy tree zone called "TRZ", it is required to register.
Cons
Gentle and wide slopes for beginners are limited.
Most of the major long course has a steep slope.
Long cruising courses are not so wide as other resorts in Hakuba, such as Happo, Tsugaike.
The gondola doesn't run the full vertical of the resort. To get to peak it is required to take another lift.
The gondola doesn't run the full vertical of the resort. To get to peak it is required to take another lift.
There is now ski-in ski-out accommodation.
Recommende slopes in Hakuba47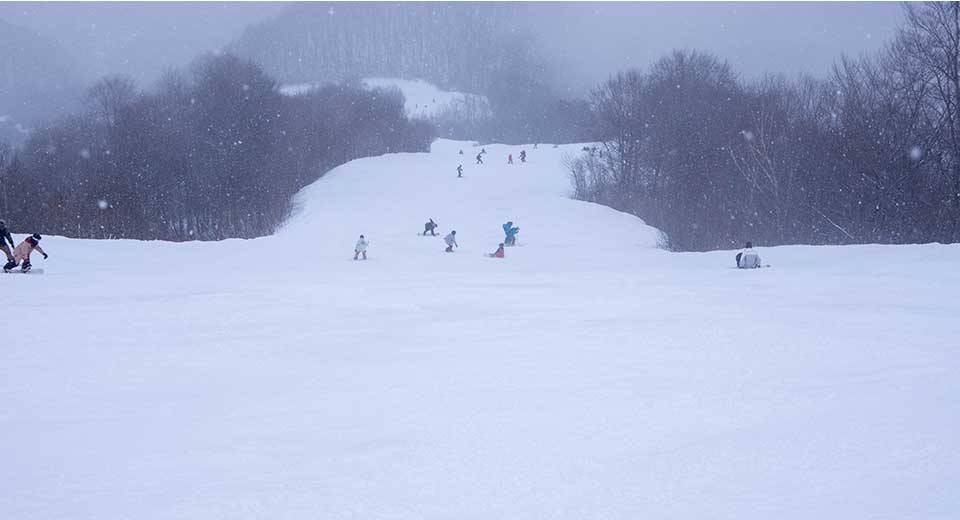 On the R1 you can enjoy great long crusing
The most popular on-piste course is Route1 (Length: 2,500m, gradient: Max.28 Ave.22)which start from the peak and get to the base. It is long cruising course with 2,500m length. Especially in the early morning you can enjoy high speed carved turns on the perfectly groomed course. Although Route 1 is indicated as intermediate, some part may be steep for intermediate skiers. In that case you can take a detour route(forest road course).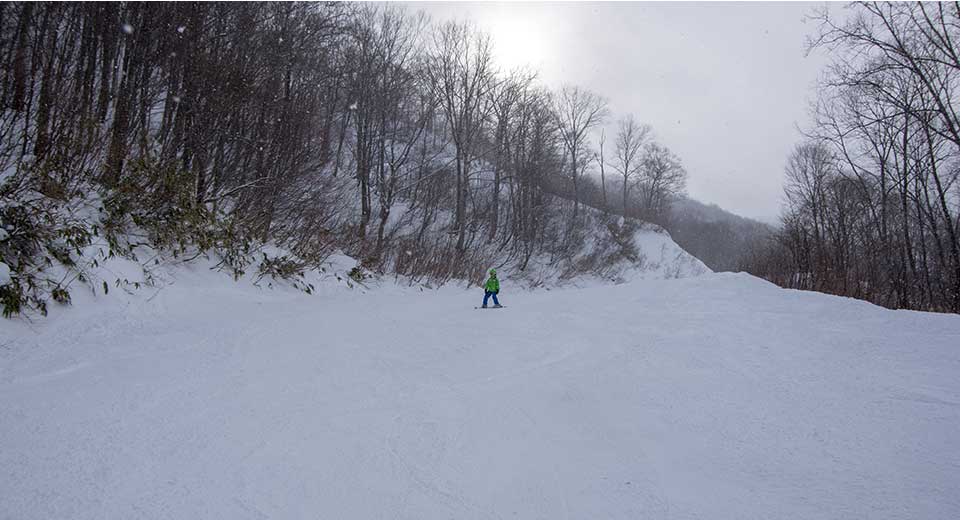 R8 connceted with Hakuba Goryu /p>
Even beginners can enjoy 6,400m long slope from the peak of the ski resort via Route5 (Length: 800m, gradient: Max.14 Ave.12) and Route7 (Length: 3,600m, gradient: Max.11 Ave.7). These courses are mostly forest road courses. Sometime it is required to across steep slope. It may be scared for beginners.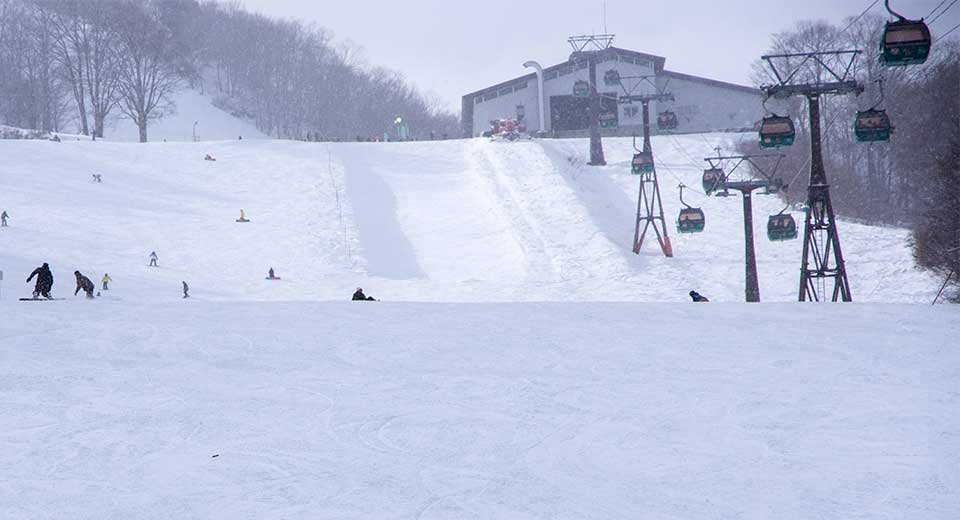 R4 has the large scale terrain park
In the Route4 there is a terrain park called "47 PARKS" which has a variety of kickers, including 20m class large one, well maintained half-pipe, boxes and rails. This terrain park is the biggest in Hakuba area.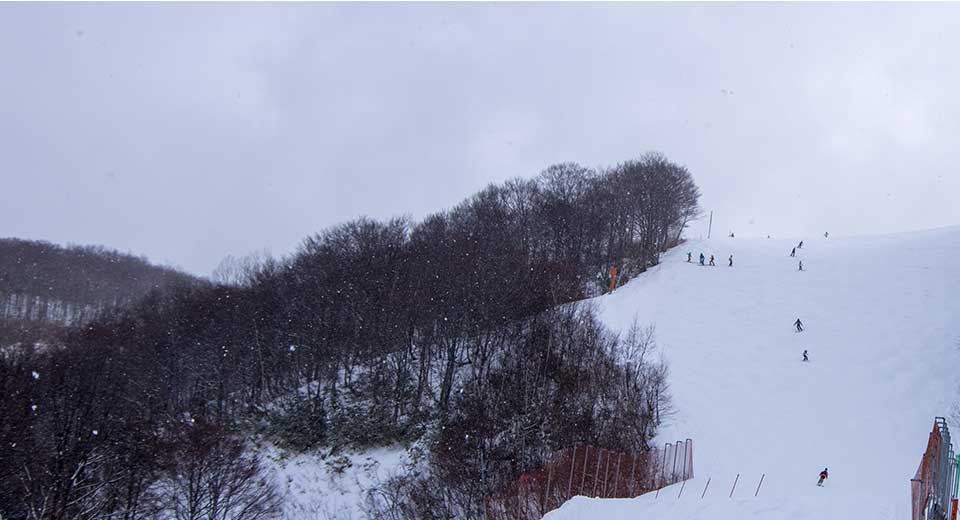 "Tree Riding Zone"beside "R2"
Near Route2 and Route3 there are three designated tree run zone, which is called "TRZ(Tree Riding Zone)". To get into this zone registration is required. For registration it is required to take lecture and make ID card for TRZ and to wear special bib provided by ski resort.