Able Hakuba Goryu
ABLE Hakuba GORYU (often just known as Hakuba Goryu) is a resort located in Hakuba village in the northern part of Nagano Prefecture. Goryu is a medium-large scale resort which has 16 courses, vertical drop of 926m (750m -1,676m), and longest distance of 5,000m. It shares a common lift pass and is interconnected at the top with the Hakuba 47 Ski Resort. If these two resort are put together, their slope become 150 ha and get No.3 largest position in Hakuba area.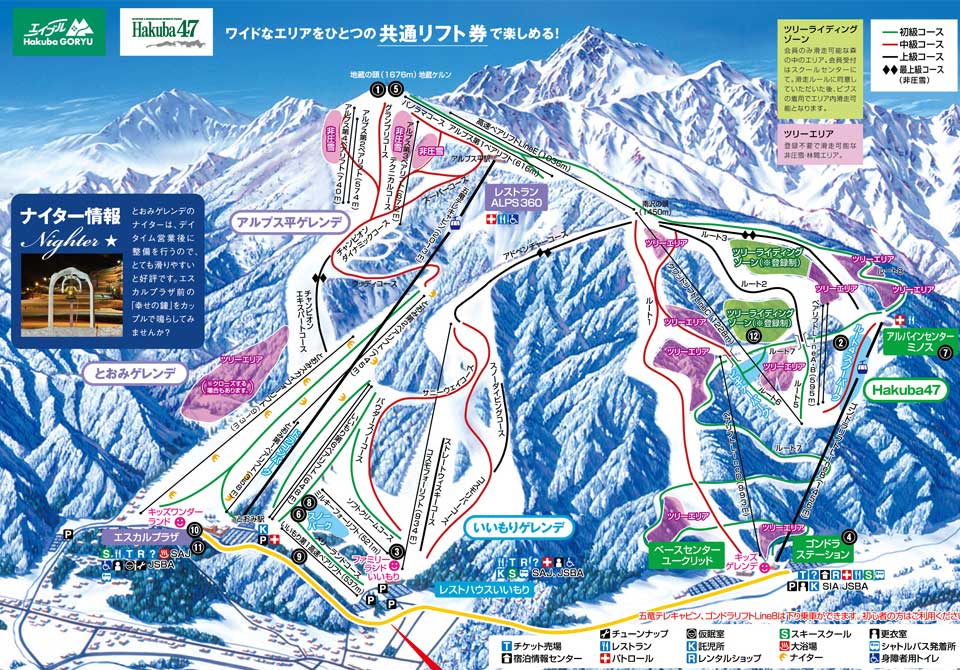 akuba Goryu has three skiing zones.TheToomi zone is a main base area of the resort which has gondola station. It has wide good slope for beginners and night skiing. Iimori Zone is located next to the Toomi zone, which also has the base. It has also nice beginner slope and several attractive intermediate slopes. These both two areas are suitable for group with beginner and family,The Alps-daira zone is the upper part of the resort accessible by gondola with attractive beginner and intermediate course. In this zone you can enjoy majestic views of big mountains and dry powder snow, Since it has gentle slopes, even beginners can enjoy the beautiful experience. After that beginners can go down by the gondola. The Escal Plaza, which is located in the Toomi zone is a main center house which has restaurants, hot spring, and shops.
Basic Information
| | |
| --- | --- |
| Courses | 15 |
| Area | 120ha |
| Longest run | 5,000m |
| Elevation | 750-1,776m |
| Open | 15-Dec(2020) |
| Close | 6th.Dec(2019) |
Course Ratio
Beginner
35%
Intermediate
45%
Advanced
25%
Lifts
12
0
1
3

Others

0
8
0
0
Pros
Goryu is very family friendly, with many beginner slopes, including a beginner slope on the peak of the resort.
In combination with Hakuba 47, Goryu offers a variety of slopes.
In the upper part of the resort you can enjoy majestic views of big mountains and high quality dry powder snow.
Even a begnner can enjoy slope on the peak(It is recommended to go down to the base by Gondola).
As for accommodation it has a quiet nice village near the ski resort with minimal restaurants and bars options.
Cons
Compare to other ski resorts in Hakuba such as Happo-one, Cortina opportunities to enjoy off-piste and tree-run are limited,
Goryu is a popular resort in Hakuba and can suffer from crowds during peak times, especially on the weekend and holiday seasons.
Especially main slopes of Toomi zone is crowded with beginners.
Lift price is a little bit higher comapred to other ski resort in Hakuba.
On the weekend the parking lot near Toomi zone is often full even in the early morning.
Recommended slopes of Hakuba Goryu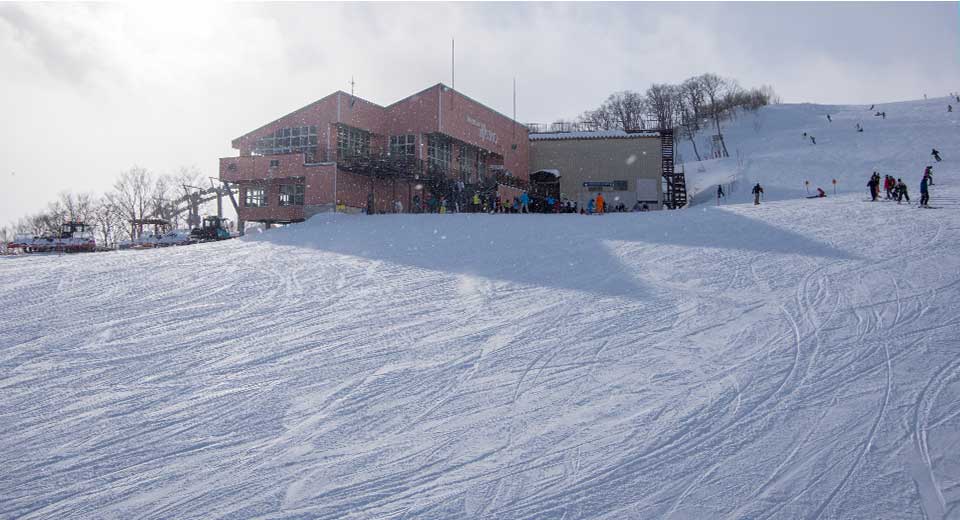 Panorama course is a gentle slope located on the upper part of Goryu ski resort.
Alps-Daira zone is located in the upper part of the resort. Elevation of Gondola station is 1,515m. In this zone there is a beginner course, It is Panorama course(Length: 850m, gradient: Max.18° Ave.15°) which is directly accessible from the Gondola station. From the course you can enjoy spectacular close up views of big mountains such as Mt.Goryu, Mt.Karamatsu in good weather conditions. Since it is a gentle slope, beginners can fully enjoy this course. Beginners can go down to the base area by gondola.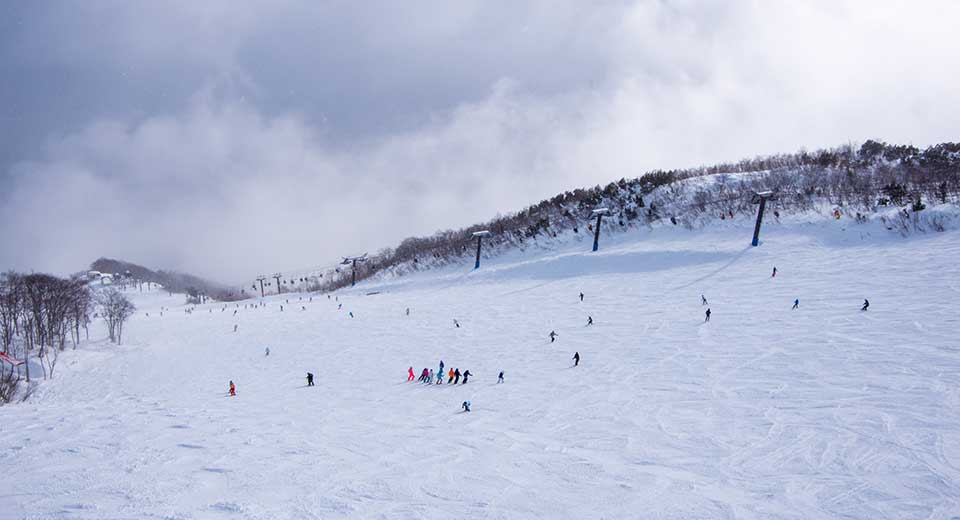 Grand Prix course
The most recommended course above intermediate skier is (Length: 900m, gradient: Max.23° Ave.21°) which is also located in the Alps-daira zone in the upper part of the ski resort. High speed long carved turn can be traced across the wide slope. Because of the high elevation you can also enjoy dry powder snow. After snowfall, on the side of the course fresh powder is remained as off-piste without grooming.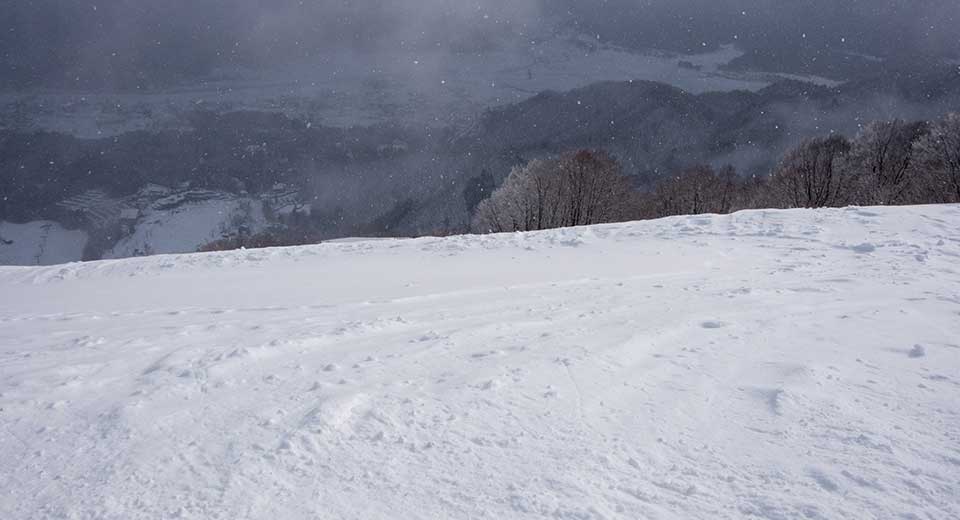 Champion Dynamic course
Champion Dynamic course (Length: 500m, gradient: Max.23° Ave.21°) and Champion Expert course (Length: 500m, gradient: Max.35° Ave.30°) are followed from Grandprix course. They are expert courses in which normally big bumps are waiting for your challenge throughout the course. After the snowfall you have a chance to enjoy deep powder snow.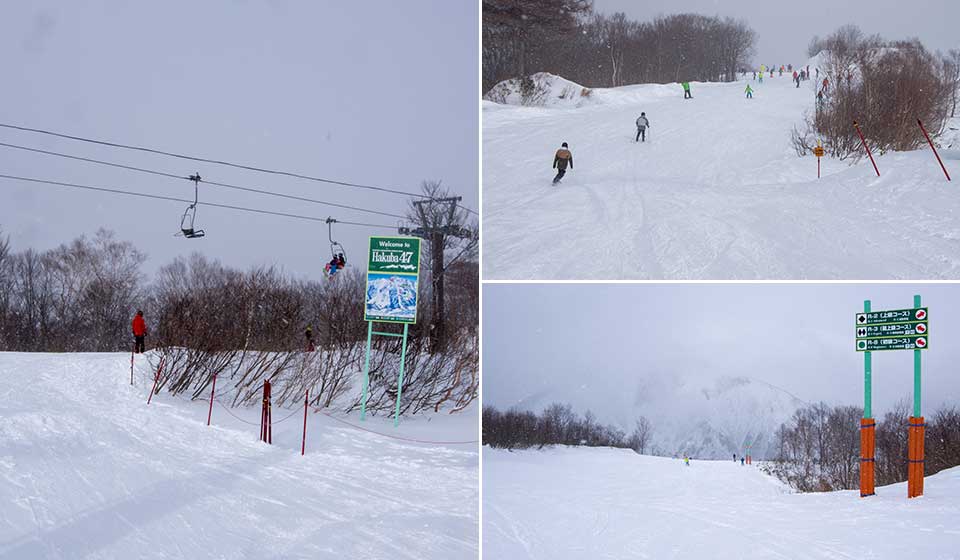 From Panorama course to R8 course of Hakuba47
From Alps-daira zone you can access to R8 course of Hakuba 47 ski resort via Panorama course. There are several signs which indicate "To Hakuba 47". Since most of the slopes get to Hakuba 47 are gentle slope, even beginners can go to Hakuba 47.
Hakuba Cortina's accommodation
Near the ABLE Hakuba GORYU ski resort there are two villages for accommodation, Toomi Village, Iimori Village.These areas have more than 100 accommodations. Major village is Toomi which is close to Toomi base of Goryu. There are a few ski-in ski-out accommodation. Most of them are walking distance and some provide morning shuttles. Since shuttle bus service which runs thru Hakuba major accommodation areas and ski resort is available, it is no problem to stay in the accommodation area of the neighboring resorts such as Happo, Tsugaike etc..。