Best Ski Resort for beginner in Tohoku,Japan
The recommended ski resorts for beginners and kids in Tohoku are picked up and introduced. Tohoku is the most northern part of the mainland called Honshu. The most popular ski destination in Tohoku is Appi, Geto, Zao etc.. During the visiting ski resort to make this web site, we also check the slopes for beginner and facilities by ourselves. Only by visiting the web site of each resort and checking the resort data, it is difficult to know whether beginner and child can really enjoy with peace. We believe our tips can be referred for your ski trip in Japan. For more detailed information, please visit introduction of each ski resort from the link.
| Ski resort | Area | Recommended point |
| --- | --- | --- |
| Appi Kogen | Iwate | Beginner slope with length of 5,500m is super attractive. Ski-in ski-out hotels are also available. |
| Shizukuishi | Iwate | The beginner slope halfway up of the ski resort is attractive, it is wide and has good quality snow. |
Appi Kogen(Iwate)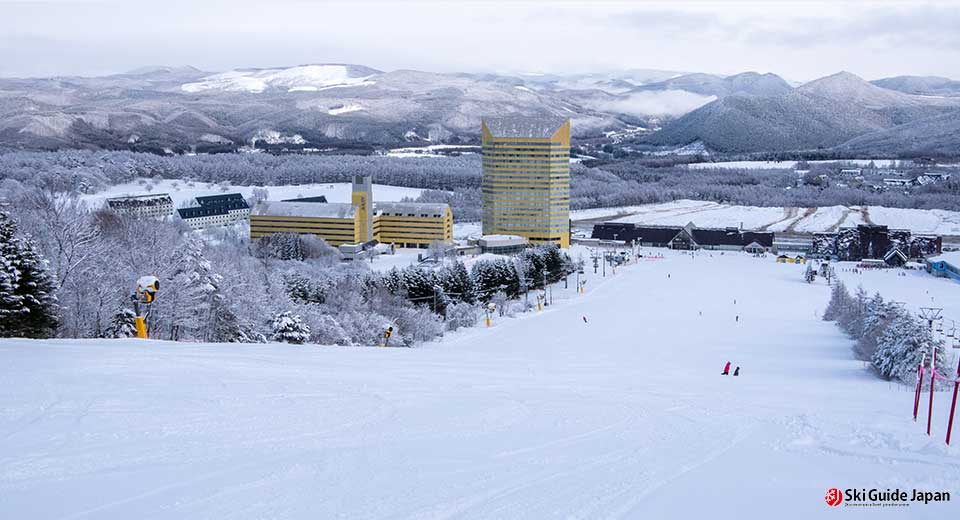 Appi Kogen is one of the largest ski resorts in Japan located in Hachimantai City of Iwate Prefecture in in northeastern Japan,Tohoku. It has a vast ski area of 282ha and a wide range of long courses. And it is also well known for having good ski-in ski-out western style accommodations. At the base of the ski resort, there are plenty of slopes for beginners such as "Shirakaba course" and "Karugamo course". These gentle, wide, and long slope is suitable for beginners and families.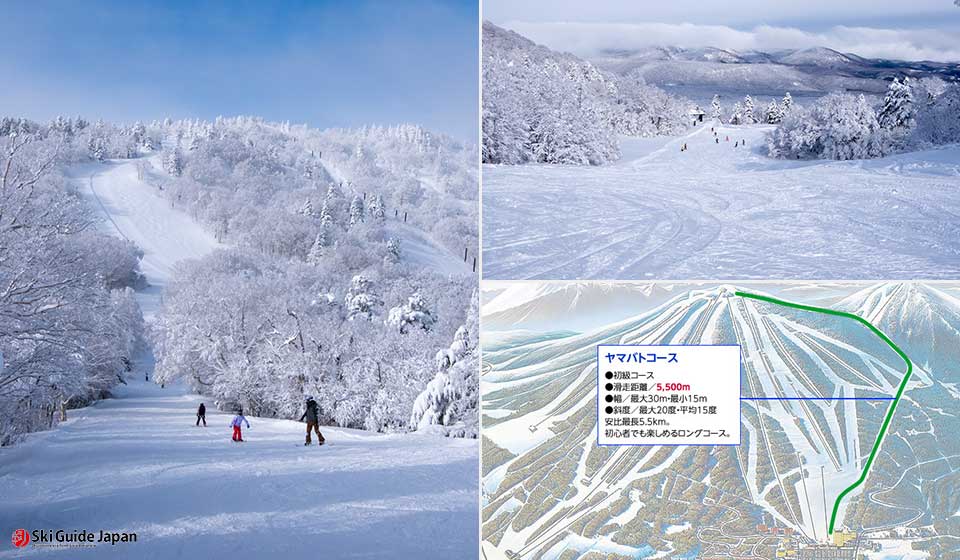 Most recommended course for beginners in Appi is "Yamabato course (length: 5,500 m, gradient: Max.20 Avg. 15) ". In this course, beginners can enjoy long cruising with great view from the summit of the resort. In Japan, it is unusual in Japan to have such a long and wide course of more than 5,000 m for beginners. While other Japanese ski resorts claim to have long beginner courses, most of these include narrow forest road sections, unlike that at Appi Kogen.
Appi offers a kids park called "Appi Happy Snow Park", which is clearly separated from other courses by nets. The park has two moving belts and a gentle training slope, while a skiing, snowboarding, and other activity area (for sledding, tricycle-like snow racers, snow tubing, etc.) is separated. "Appi Happy Snow Park" is also suitable for adults who want to experience the "Snow".
Shizukuishi(Iwate)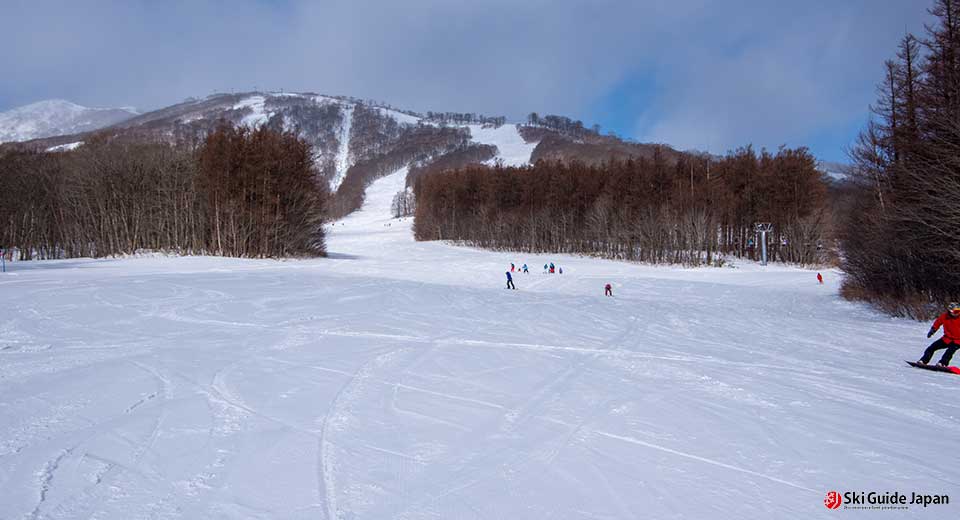 Shizukuishi ski resort is located in Shizukuishi City in Iwate Prefecture, 28km northwest of Morioka City, the capital of Iwate Prefecture. It is managed by Japanese famous hotel chain "Prince Hotel Resorts" and gains acclaim for good quality facilities and services. The most recommended course for beginners is "Family course" located near the end station of the Ropeway. It has wide, gentle slope ideal for beginner. Even a beginner can undertake the Ropeway straight to the high altitude and enjoy the high quality snow and beautiful scenery. And after enjoying ski you can go down to the base area by the ropeway. In the base area, there is Prince Hotel Shizukuishi allowing you to enjoy the comfortable ski-in-ski-out accommodation.