about Appi Kogen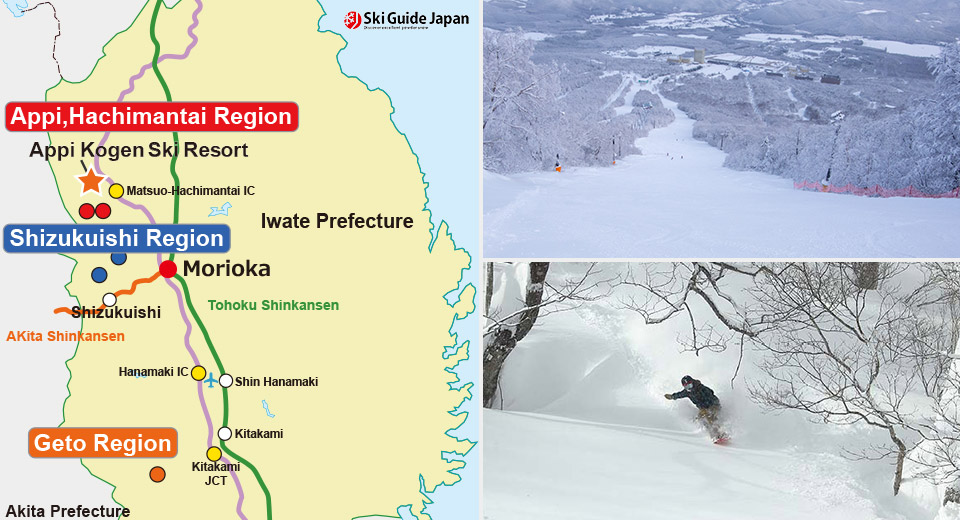 The Appi Kogen ski resort is located in the Iwate Prefecture, north east of Honshu, Japan. Comprising a total of 21 slopes, with the longest run of 5,500 m and total slope distance of 43 km, it is categorized as a large-scale resort by Japanese standards. A major draw of Appi is the existing variety of long slopes and their quality. Of the 21 courses, 12 are longer than 2 km. Grooming quality is another highlight of Appi, and the slopes are usually maintained in flawless condition. The vast slopes are divided into four areas: Central, Sailar, Second, and Nishimori, all of which are comfortably accessible by an eight-person gondola and high-speed lifts.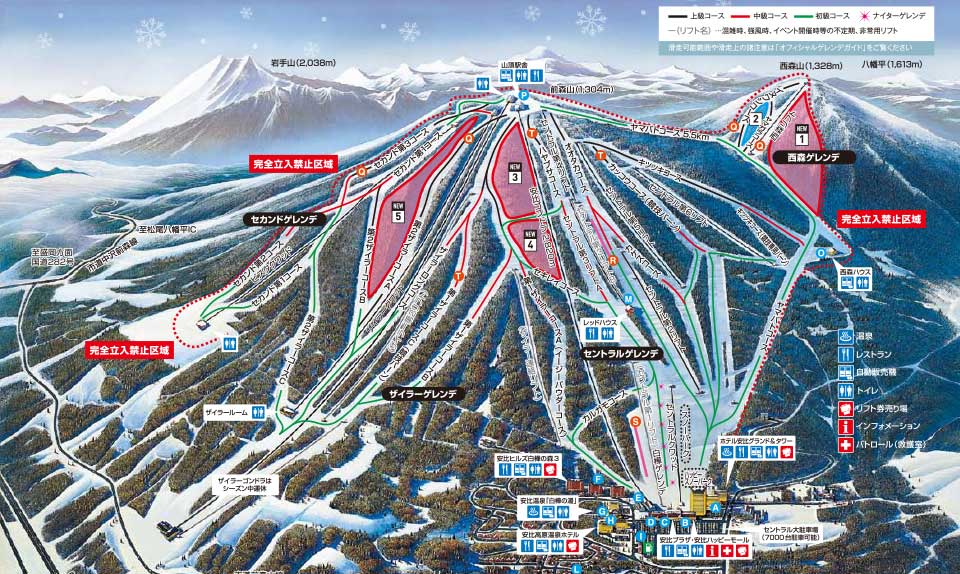 Furthermore, Appi is also famous for its dry powder snow. Located at 40 degrees north, Appi is on the same latitude as world-renowned ski resorts such as Arlberg (Austria) and Aspen(USA). In addition, the slopes of Appi are on the north side of the mountain. Due to these reasons, Appi's snow quality is the finest in Honshu. In recent years, Appi has enhanced its tree run zone and off-piste area. Tree run zones have been expanded to approximately 60 ha for the 2019-2020 season, and six zones are now opened to skiers for engaging in challenges. Moreover, Appi is recommended for families as there are plenty of slopes and snow activities for beginners. The ski resort offers a variety of accommodations, including western style ski-in, ski-out hotels. This is a particular advantage for Appi, since generally the availability of western style accommodation near a ski resort is limited in Japan.
Basic Information
| | |
| --- | --- |
| Courses | 21 |
| Longest run | 5,500m |
| Area | 282ha |
| Elevation | 684-1,304m |
| Open | Nov.30,2019 |
| Close | May.6,2019 |
Course Ratio
Beginner
35%
Intermediate
45%
Advanced
25%
Lifts
13
0
1
3

Others

0
9
0
0
Pros
The quality of grooming is a highlight of Appi, which provides a magnificent experience on the long slopes.
Tree run and off-piste zones have ben expanded annually, allowing premium deep powder to be enjoyed(In many Japanese ski resorts, tree runs are prohibited).
Appi is very family friendly, with many beginner slopes, including a 5.5 km long-cruise run for beginners.
"Kids park" is well designed and managed, and it is enjoyable even by adults.
Ski-in, ski-out hotels, the Appi Grand Hotel, and the Appi Hills provide additional convenience.
Cons
Slopes on the upper part of the mountain are steep. Most of the major long-cruising courses start at an advanced level. For intermediates, it can be difficult to ski the whole slope. The whole of the Yamabato course is, however, suitable for beginners.
The only resaurants in the resort are in the base area. If you want to buy lunch, you must return there.
Appi Kogen's recommended courses
Hayabusa course (length:3,000 m, gradient: Max.30° Avg.19°)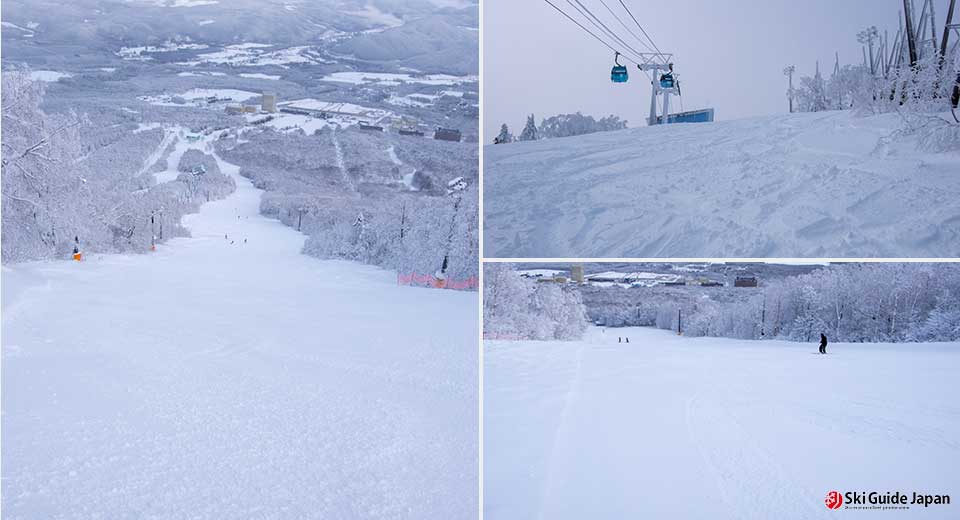 The Hayabusa course is the most famous long course which stretches across 3,000 m from top to bottom. It is directly accessible from the Appi Gondola peak station. Wide curves can be traced across the broad, long, perfectly groomed slope, an especially attractive early morning activity. While the beginning of the course is steep, it becomes smoother during the descent. Although the upper part of the slope is best suited for advanced skiers, it can be enjoyed by intermediates because of the perfect grooming. If you prefer, however, you can avoid the upper part of the slope using the "Central No.2 lift" or the "Central No.3 lifts".
Shirakaba slope (length: 1,000 m, gradient: Max.16° Avg.9°)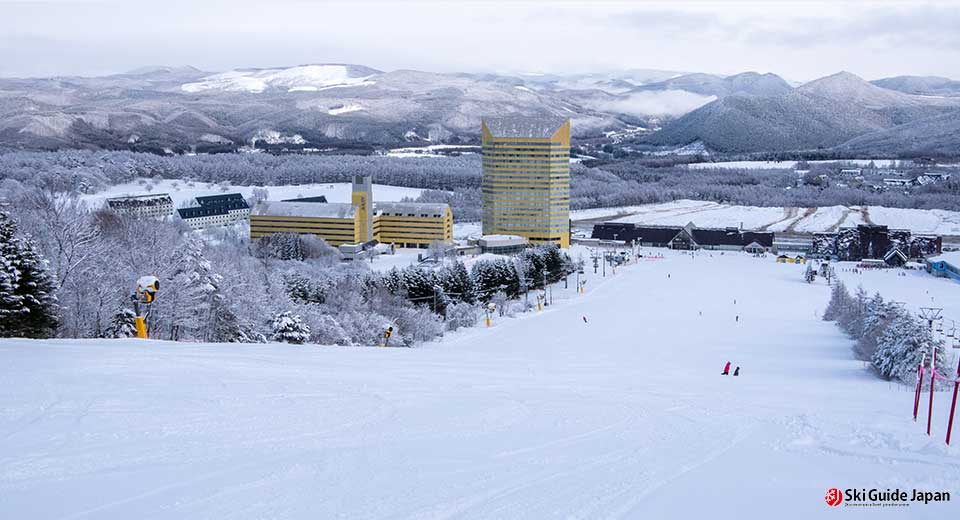 At the base of the Central area, there are plenty of slopes for beginners. Shirakaba slope is located at the foot of the resort in front of the Appi Grand Hotel and the center house. This gentle, wide, and long slope is suitable for beginners and families, and it can also be used for night skiing.
Yamabato course (length: 5,500 m, gradient: Max.20° Avg.15°)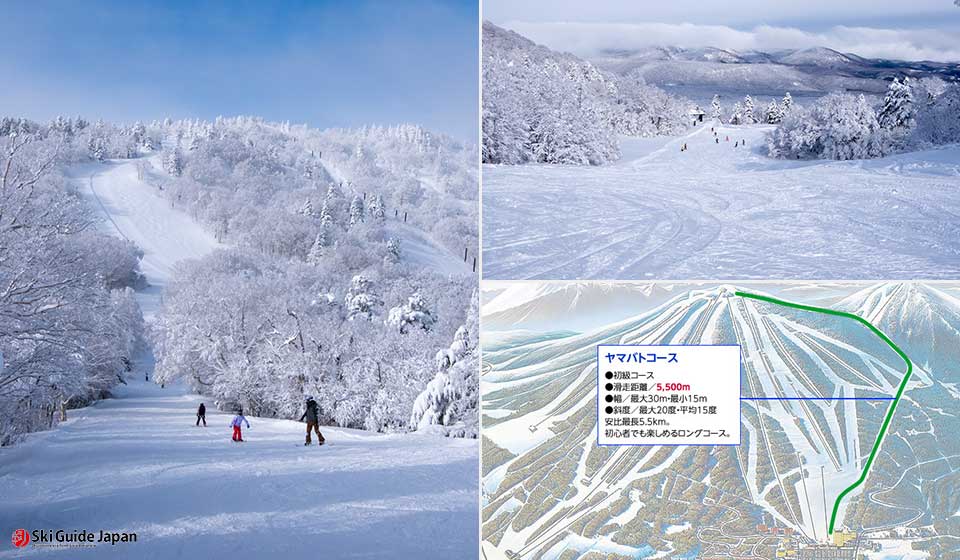 Beginners can enjoy long cruising with great view from the summit of the resort. In Japan, it is unusual to have such a long and wide course of more than 5,000 m for beginners. While other Japanese ski resorts claim to have long beginner courses, most of these include narrow forest road sections, unlike that at Appi Kogen.
Second Sailar A course (Length: 2300m, gradient:Max.34° Avg.16° )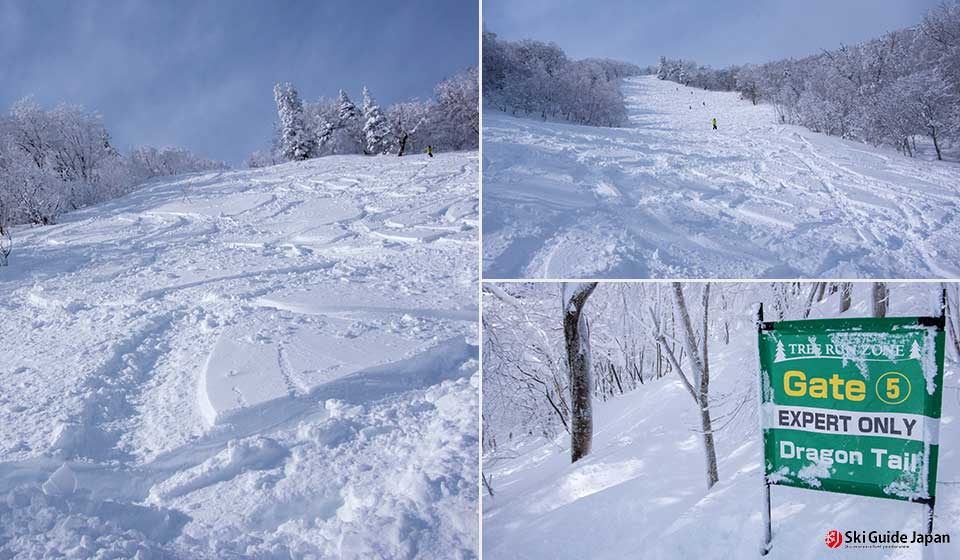 The Sailar area features plenty of courses to attract the advanced skier. Especially, Second Sailar A is a advanced course which is the most difficult slope at the resort. Big bumps are common in its upper section, while heavy snowfall turns it into an ungroomed 2 km run.
Second Appi First(Length: 2500m, gradient:Max.28°, Avg.13°) and Second Appi Second (Length: 1,000 m, gradient:Max. 21, Avg. 12)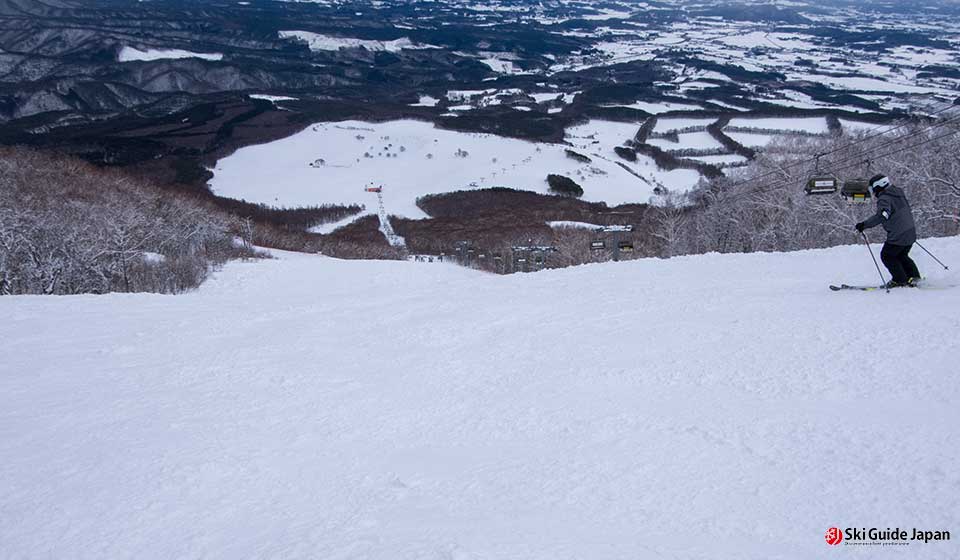 located on the east side of the resort and has many places to enjoy ungroomed deep powder. Compared to the Sailar area, Second is more friendly for intermediates, as upper sections have routes around the steepest slopes. Even though their course level is for intermediates/beginners, half of the slope is maintained as an off-piste area where fresh powder can be enjoyed.
Nishimori Slope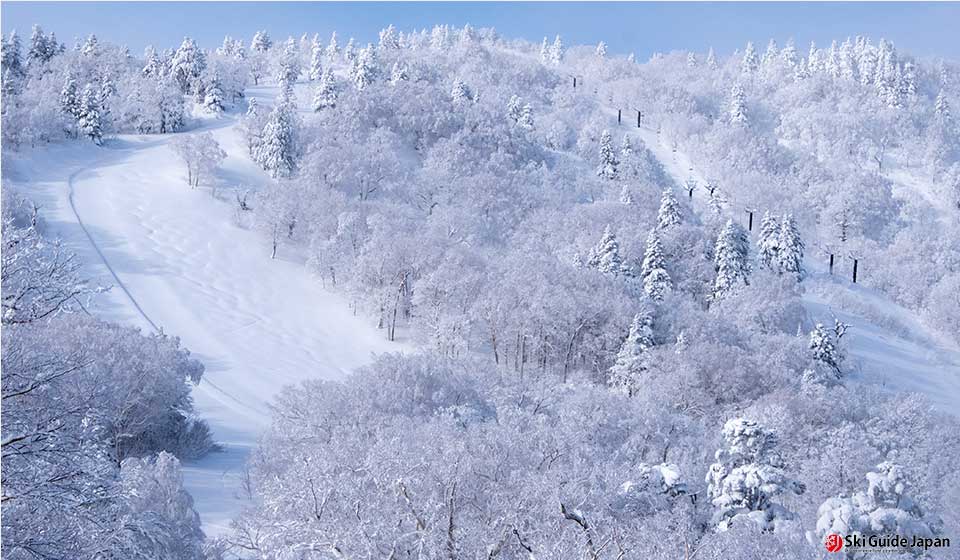 Nishimori area is located at the highest part of the ski resort and offers attractive off-piste slopes and tree run zones. In this area there are two courses, Inuwashi course (length: 1,000m gradient: Max.30 Avg.16) and Yamagara course(length:900m gradient:Max.32 Avg.23). Both of them are basically off-piste slopes and after snowfall you can enjoy fantastic fresh powder snow.
Appi Kogen's tree run zone
In 2019-20 season Appi Kogen has expanded tree run zone to 6 areas, 62ha. Before entering to tree run zones, registration at the 1st floor of the APPI plaza is required. Then, the skier is requested to wear the armband and follow "Appi rule"(https://www.appi.co.jp/tree_run_zone). These areas are controlled by gates. Based on the condition it can be closed. Please be noted that these zones are self responsible area.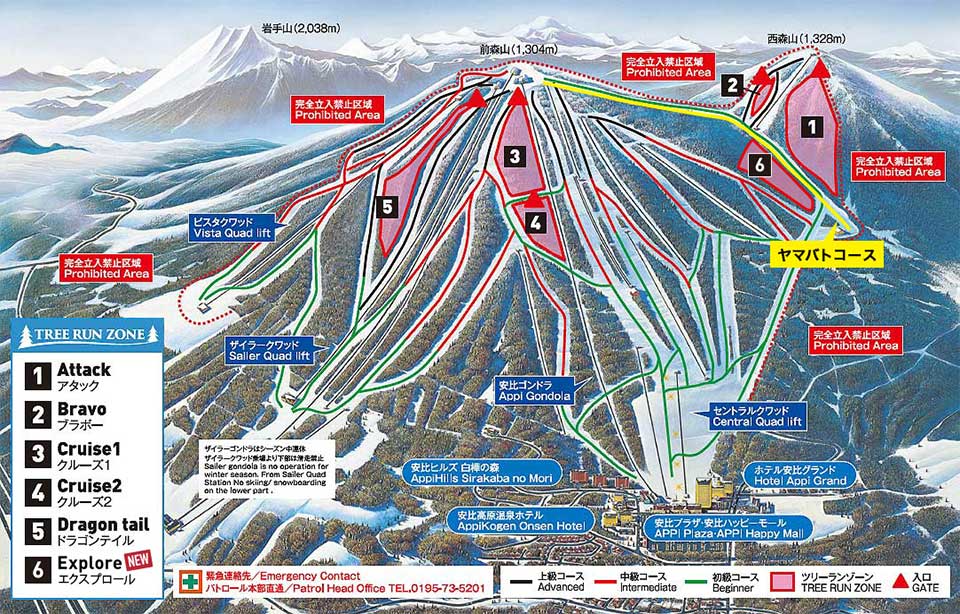 ①Attack zone (length:900 m, total area: 30ha)
Attack zone is located on the right side of the Nishimori lift (on the resort map), in the Nishimori area, at the highest part of the resort. This is the biggest tree run zone in Appi, where the best dry powder snow can be enjoyed. Be vigilant, though, as it may not be possible to return to the ski resort area if you take the wrong route. If you do not have enough experience at back country and side country skiing, this zone is not recommended.
②Bravo zone (length: 250 m, total area: 3ha)
Bravo zone is located between the Yamagara and Inuwashi courses in the Nishimori area. As this location is more protected from sun and wind, conducive periods tend to last longer than in the other tree run zones. Moreover, there is no need to worry about getting lost.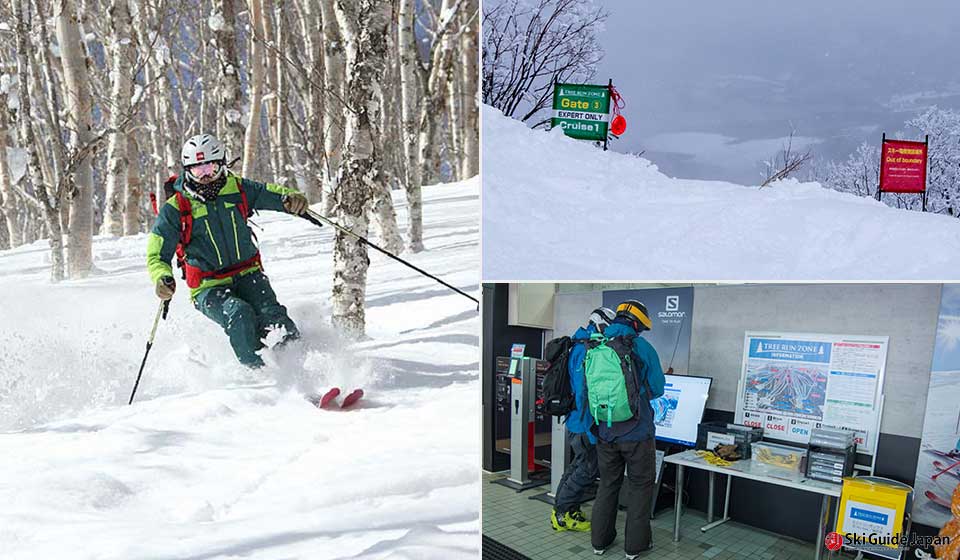 ③Cruise1 zone(length: 600 m, total area: 10ha)
The entrance to the Cruise1 zone is located on the upper part of the Sailar-long slope. At the beginning of the zone, you can enjoy steep tree-run slope, though skills are required because the distance between the trees is a little narrow.
④Cruise2 zone(length: 200m, total area: 4ha
Cruise2 zone is a continuation of Cruise1 tree-run zone located in the Sailar area. While this is a short run, it features a wide tree run zone.
⑤Dragon tail zone (length: about 1000 m, total area: 16ha)
Skiers can enter from the upper part of 2nd Sailar course and and enjyoy a long tree run of over 1,000 m.
⑥Explore
Explore zone is a new course, inaugurated in 2019, located next to the Yamabato course in the central area, allowing for easy tree skiing.
Appi Kogen's facilityies for kids and families
Appi offers a kids park called "Appi Happy Snow Park", which is clearly separated from other pistes by nets. The park has two moving belts and a gentle training slope, while a skiing, snow boarding, and other activity area (for sledding, tricycle-like snow racers, snow tubing, etc.) is separated. An additional entrance fee of 1000 JPY is required or 800 JPY if you have a lift ticket. "Appi Happy Snow Park" is also suitable for adults.
Getting to Appi Kogen
From Tokyo, the most popular way to reach Appi is by train and bus. The high speed train (Tohoku Shinkansen) from Tokyo to Morioka takes approximately 2.5 hours, followed by a 1hour bus ride to the resort. The bus operates roughly by the hour in the morning, with less frequent service in the afternoon. Hanamaki Airport is located in the Iwate prefecture, and while there are no direct flights from Tokyo, a direct service from Osaka is available. An express bus, the "Appi airport liner" (fare 2600 JPY), operates from the airport, though only once per day (in the morning). There are several direct international flights from Taipei and Shanghai and free bus service for passengers of these flights is available (advance booking is required).
Appi Kogen's Accomodaion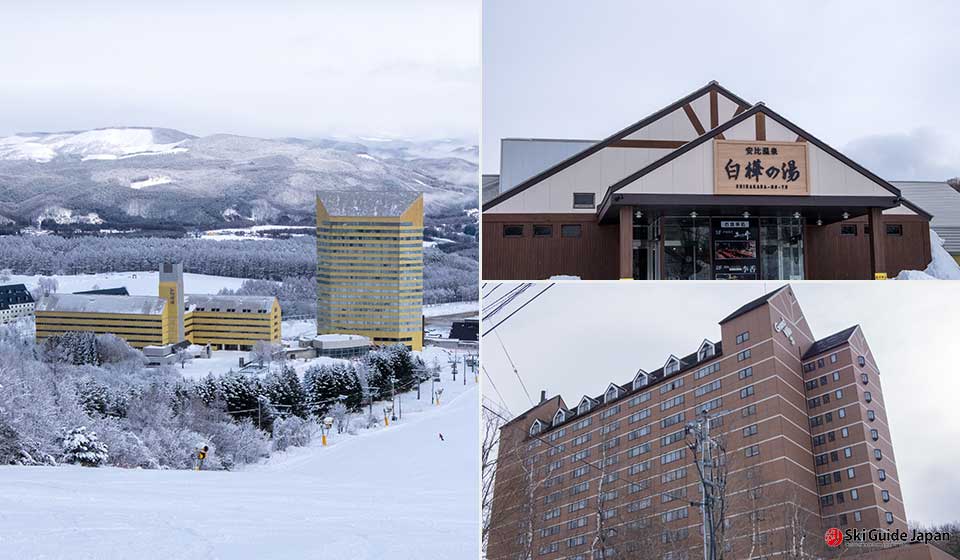 (Left)Appi Grand Hotel(Upper-light) Hot spring facility"Shirakaba-no-yu" (Bottom-right)Appi Hills
Appi boasts three western style hotels, operated by the ski resort. The Appi Grand and the Appi Hills are ski-in, ski-out hotels, while the Appi Onsen Hotel is within a walking distance of the slope. Appi Grand is a luxury hotel offering several restaurants and souvenir shops, as well as après-ski activities. An onsen (hot springs) facility is available at the Appi Onsen Hotel, called "Hirakata-no-yu." Guests of the Appi Grand and Appi Hills and wishing to try onsen can travel between the hotels by shuttle bus. As for more budget oriented options, a village which has lodges and apartment lies about a kilometer away from the ski resort.